Over 30 years of experience in the design and manufacture of bellows, expansion joints and compensators
MPW design and manufacture Expansion joints in a wide range of sizes and materials to suit all applications. They consist of flexible mechanical elements, mainly of one or more metal membraines formed into bellows connected with flanges, weld ends or threaded fittings. They can be supplied with inner sleeves, external protective sleeves, anchor supports and ties etc.

The primary applications of expansion joints are in piping systems to compensate for expansion and shrinkage due to temperature changes, to compensate for mis-alignment, to make pipe assembly easier and to dampen vibration and noise among many other uses.
Materials, Welding and NDT
We manufacture in a wide range of materials from 304 stainless, 321 stainless, 316 stainless, monel, inconel, titanium and many more.
Where required our welders are EN or ASME qualified. We can meet other requirements if requested.
Bellows can be supplied fully pressure tested, Penetrant tested and Radiographed where required to meet the most stringent of applications.
Bellows Types
Typical bellows types in our capability
Axial,
lateral,
Angular,
Gimbal,
Pressure balanced,
Rectangular,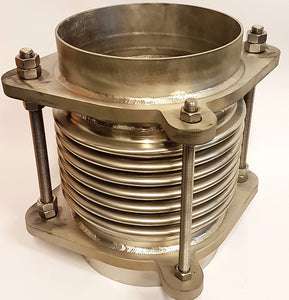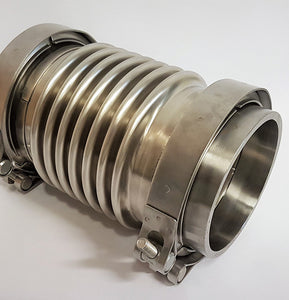 Standards and Calculations
Bellows and Expansion Joints are designed, produced and tested in accordance with the following standards: 
• EJMA Expansion Joints Manufacturers Association. 
• EN 14917 Metal Bellows Expansion Joints for pressure application. 
• ASME

Industrial applications
• Power plants
• Energy
• Process industry
• Chemistry/Pharmaceutical
• Food
• Marine
• Water
• Transport
• Cooling systems
• Pumps
• Wind